Developing an HACCP plan for your company
An HACCP plan is compulsory when your company requires a permit as stated in the animal by-products regulation (EC) No 1069/2009 (previously 1774/2002).
Examples
The following list shows examples of processes which require an HACCP plan:
composting
anaerobic digestion
ultra-filtration
drying
pelletizing
How does Elsinga Policyplanning support you?
Elsinga Policyplanning and Innovation bv supports you in developing a tailor-made HACCP plan for processes that treat organic domestic waste, manure and/or other category 2 and 3 materials. We rely on our broad experience and make use of standard documents that our company has developed in this sector. Therefore we work efficient and cost-effective.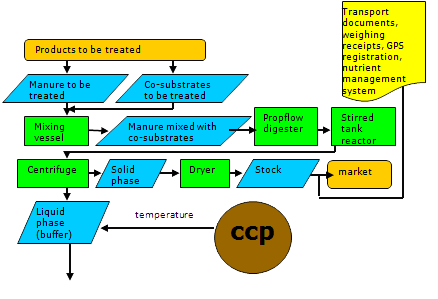 Example of a flow diagram in which critical control points (ccp's) are mapped.